GillianE
Celebrity Beauty Expert
Our body is our temple, Self-care is never a selfish act—it is simply good stewardship of the only gift we have…
GillianE is a Master Therapist and Master Trainer, a much sought-after professional in her field with over 27 years of International experience, working with clients all around the World from the Far East to the Middle East, Europe and Vancouver Canada to name but a few.
Beauty from the inside out and Body Mind and Soul
GillianE also used to work on board the 5 Star Cruise ships, such as The Princess and The Royal Caribbean Cruise Liners, sailing the World whilst treating an often discerning and affluent VIP clientele to her World Class Beauty Treatments and Services.
As a celebrity facialist GillianE is used to a high end and often demanding clientele and has treated the likes of Sharon Stone, Deidre Hall, Holly Robinson, while they were in town filming in Vancouver.
GillianE
MASTER THERAPIST & MASTER TRAINER
REIKI HEALER & PRANIC HEALER
GillianE in Oman at a Spiritual Pranic Healing and Arhatic Yoga Event. Awesome people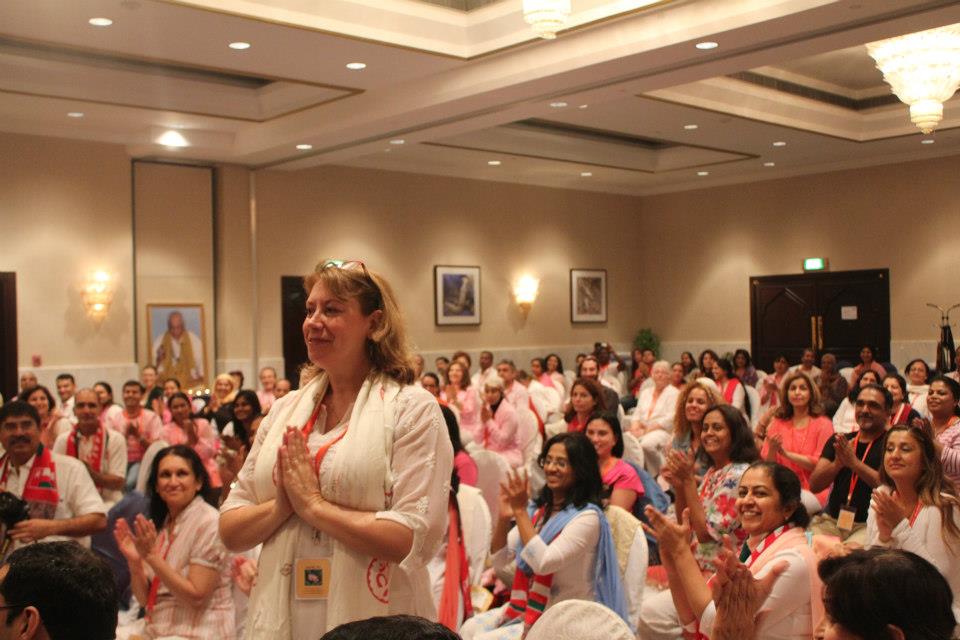 The key to the practice of Arhatic Yoga is the balance.
As the meditations combine the various paths of yoga, the practitioner finds that he or she develops not only spiritually, but also mentally, emotionally and physically. A well-developed Arhatic practitioner then uses these enhanced faculties to help the world by doing service, which forms the Karma yoga part of Arhatic Yoga. Pranic healing is a base to make a person ready to understand Arhat Yoga.
GillianE takes a Holistic approach when treating clients and treats the person as a whole. To help build confidence and self-esteem and Beauty from the inside out.
Her therapeutic treatments are truly relaxing and can take you on a magical journey of self-discovery and really bring about more Peace, relaxation and inner Balance to your life.
You will leave the room totally floating on air!
GillianE has also taught Beauty Therapy as a lecturer at several International Beauty Therapy Schools.
Such as The France Beauty School Hong Kong and Frederique Academy in Hong Kong.
GillianE is teaching the Spa staff at the famous 5 Star CHIVA SOM Health Resort and Spa in Thailand.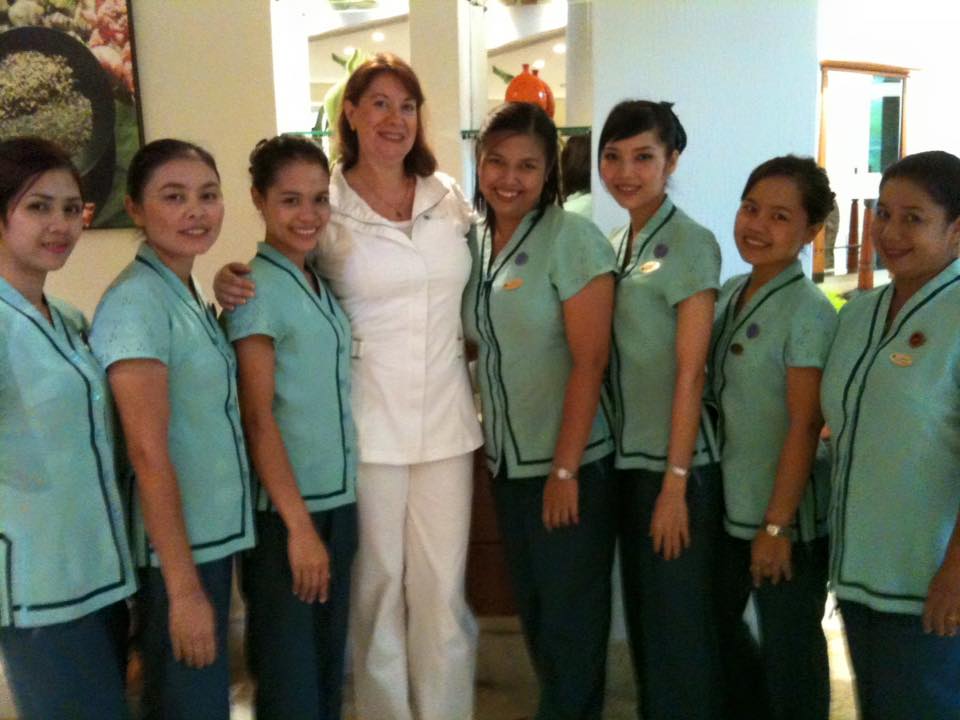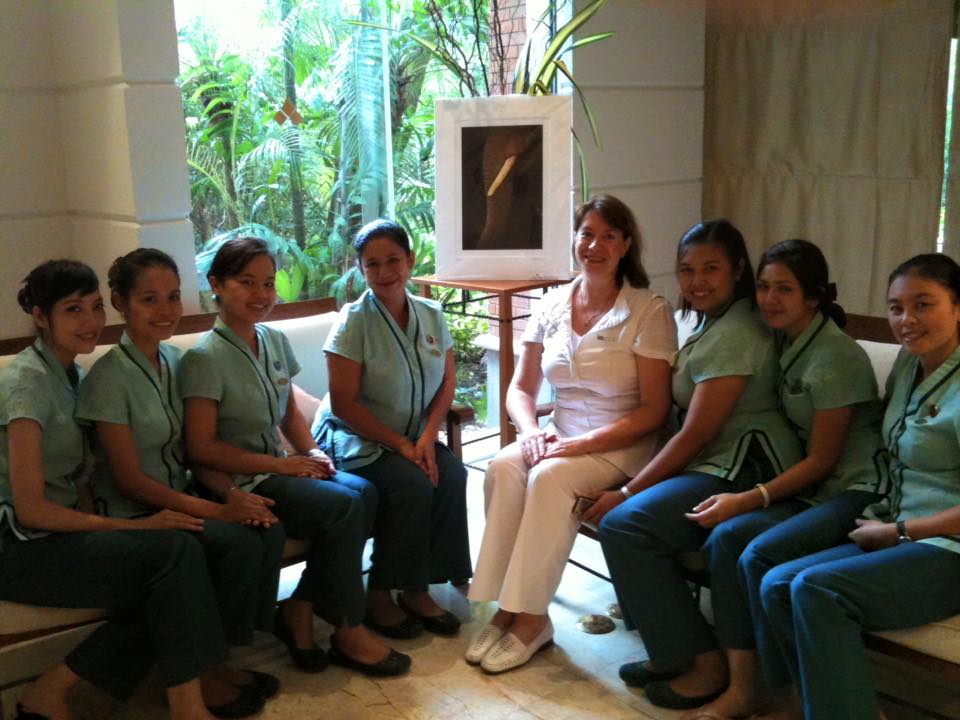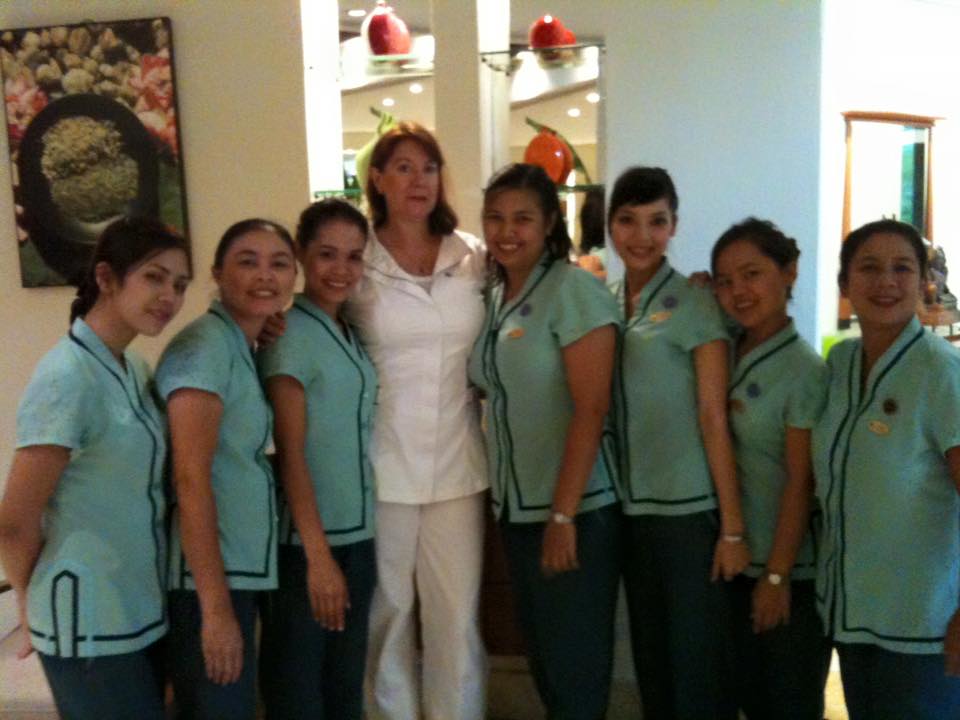 The group photos GillianE and team in their uniform in Thailand.
As an International Spa Trainer, she has taught at some of the top 5 star hotels and Spas around the world, such as the Mandarin Oriental Hotel Group and Intercon Hotel in Hong Kong, The Jumeirah Creekside Hotel in Dubai, The Sheraton and CHIVA SOM Health Resort and Spa in Hau Hin, Thailand to name but a few, as well as worked on board of  luxury cruise ships sailing the world while keeping the passengers beautiful on board the Cruise ships Beauty Salon.
"If you want to relax, watch the clouds pass by if you're laying on the grass, or sit in front of the creek; just doing nothing and having those still moments is what really rejuvenates the body…"
Originally trained in England,UK. Gillian was accredited to Distinction level and has the top International qualifications of CIDESCO, CIBTAC,ITEC and City & Guilds of London.
Gillian is also a trained:
Aromatherapist, Reflexologist, Pranic Healer and Reiki Practitioner.
And she is also an NLP Practitioner and a Certified Life Coach.
Causes of ageing summarized by GillianE: There are many different reasons why some of us age faster than others [...]
Advice From a True Professional GillianE What most people do is go by recommendation. This is the first step [...]
Medical Aesthetics vs. Beauty Salon Basically, the difference between medical aesthetics and regular beauty salon treatments is that in [...]
Take some time. Treat yourself. You deserve it.
Book a treatment this month and receive 25% off your first initial treatment.